What Payment Types Do We Accept?
Acceptable payments made directly on our online shop include all major credit cards (Visa, MasterCard, American Express, Maestro, Discover, Solo), Debit Visa, Prepaid credit cards, and PayPal.
All transactions are processed using PayPal's secure payment platform.
---
Do I Need A PayPal Account To Place My Order?
No. PayPal's secure payment processing includes an option to Pay with Credit Card or Visa Debit. See figure below for this option.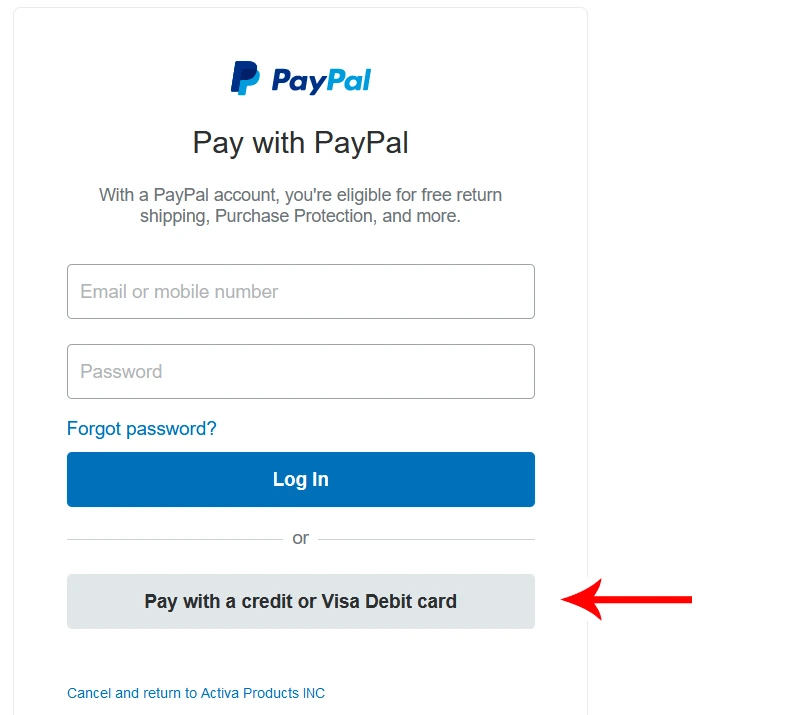 ---
Payment Security
All transactions are processed via PayPal which offers one of the most secure online payment platforms in the world.
You do not need a PayPal account to use your credit card.
All sensitive information sent between your device or desktop computer and PayPal is automatically encrypted, ensuring your personal details and credit card number is kept private. Both ACTÍVA Products, Inc. and PayPal protect all information using SSL encryption technology.
We do not store any credit card details within your account or anywhere else on our website.
Please see "What Payment Types Do We Accept?" for a list of accepted payment types.
---
Need More Help?
Please contact our Customer Support for further assistance.