Activ-Clay® Halloween Craft Swag Project Sheet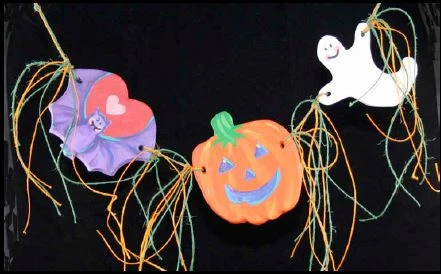 Materials:
ACTIVA Products, Activ-Clay® 1lb White
Acrylic paint:
Red
Green
White
Yellow
Orange
Lavender
Purple
Blue
Aqua
Fresh Foliage
Black
Beadalon Elasticity 1.0 Mm Clear Bead Cord
Jewelry Quality Hemp:
Gold And Green

Tools:
Rolling Pin
Plastic Knife
Toothpick for piercing
Container of water
Pencil
Paint Brushes:
#0 Round
# 1 Flat
Paper Plates (for a paint palette)
Project Tips:
• Read and follow manufacturer's instructions for all products used.
• Use photo as a guide when making and painting projects.
• Use patterns provided, enlarge them to desired size.
• The pattern sometimes transfers to the surface of rolled out clay simply by
placing patterns ink side face down on wet Activ-Clay, gently rub and remove
after one minute. If not transfer has not occurred, simply turn pattern face
up and trace gently over pattern lines with a pencil.
• Pierce clay shapes where dots are on patterns making the holes 1/8"
diameter.
• Activ-Clay is superior strength air-dry clay. To dry place on a screen or rack.
If a screen or a rack is not available turn and rotate your clay pieces while
drying to expose all sides to the air evenly, so no curling will occur.
• Paint one side of the clay shape, allow the paint to dry and then repeat the
painting on the reverse side. Painting the pattern on both sides of your pieces
makes the mobile twice as nice!
• Make pink paint mixing a tiny bit of red into white paint.
••••
Instructions:
1) Enlarge pattern to desired size.
2) Roll out Activ-Clay® with rolling pin until ½" thick and long enough to hold the
patterns.
3) Transfer patterns, cut out shapes with plastic knife. Smooth edges if needed.
Pierce with toothpick and set on screen until dry.
4) Refer to the photo and paint the pumpkin orange and green with blue and purple
eyes. Paint one side, allow it to dry and then repeat painting on reverse side.
5) Paint the ghost white with pink cheeks, and use black for his smile and eyes.
6) Paint the bat in purple and lavender, with aqua highlights. Paint the heart
between the wings red and the smaller heart pink. Allow to dry
7) Tie pieces together with one strand of gold and one strand of green hemp, with
the pumpkin in the middle. Tie a double knot when tying pieces together, leaving 1
½" of space in-between pieces. On the end pieces, leave 3" of hemp and then tie a
loop for hanging. Tie on extra pieces of hemp of varying lengths to add to the
decorative effect.