Supplies:
CelluClay
Eyelet screw
White Acrylic paint
Permanent markers
Krylon clear gloss spray
Charms, beads, chains optional
To make one charm:
Mix the CelluClay according to package instructions.
Roll a 1" ball with the clay.
Use your two fingers to push in eye sockets and pinch a chin at the bottom. Flatten the front mouth area a tiny bit.
Twist the eye screw into the top of the head. Position the loop on the screw to the front or side depending on how you want it to hang.
Leave the skull charm to dry.
Paint the head white.
Decorate with permanent markers and seal with clear gloss spray.
Hang on a chain alone or with other bits and baubles.
NOTE: The charm pictured here has a wire loop strung with beads and was glued in for extra security.
Supplies:
White acrylic paint from
PlaidEnterprises.com
Clear gloss spray by
Krylon
Permapaque permanent markers by
Sakura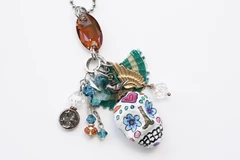 Designed by Candie Cooper