Hearty Clay Vintage Heart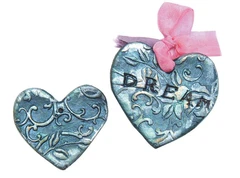 Materials
White Hearty Clay
Clay roller
Heart clay cutters
Clay scissors
Walnut ink
Rubber stamps or stamp mat
Black Sharpie pen or word rubber stamp
Permanent ink pad
---
Directions
Roll white Hearty Clay to 1/16" thickness on clay roll
Place stamp mat on clay and roll across it
Lift stamp mat, cut heart with small clay cutter
If using a word rubber stamp, stamp now.
Let air dry (less than 24 hours, turn while drying)
Brush with walnut ink or cold coffee. Let dry
If you want to hang this from your scrapbooking page... be sure you put a hole in your clay piece in step 3
Using Sharpie pen to write word... if you have not stamped into heart.