Seasonal folk art overflowing with whimsy and personality is the specialty of David Everett of Chicken Lips - the next artist in our Artist Spotlight Series. We're thrilled to have learned more about what inspires him and how he creates his magical sculptures, and we know you'll enjoy reading more about David and his work, too!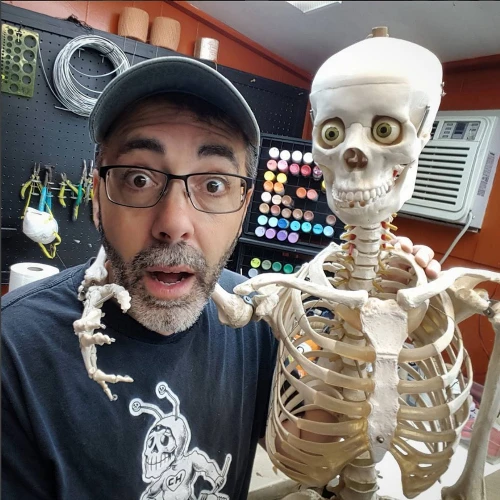 ACTÍVA Products: David, before we really get into this interview, we have to ask - what is up with the name of your studio - "Chicken Lips?"
David Everett: I love chickens (don't know why, but I have had a fondness for them ever since I was a kid). And I love the expression "as useful as lips on a chicken," so, naming my studio "Chicken Lips" seemed like a perfect solution. My studio is smack dab in the middle of 2 acres in a small, rural Southern California town. My chickens, dogs and goat are a constant source of inspiration for me.
ACTÍVA Products: Aaaah, OK. We love that! Do you have other sources of inspiration?
David Everett: Using my background as a professional Graphic Designer, I design my creations based on the inspiration that I find in vintage holiday decorations and traditional folk art images of the past. Of course, I put my own unique and twisted touch on everything I create!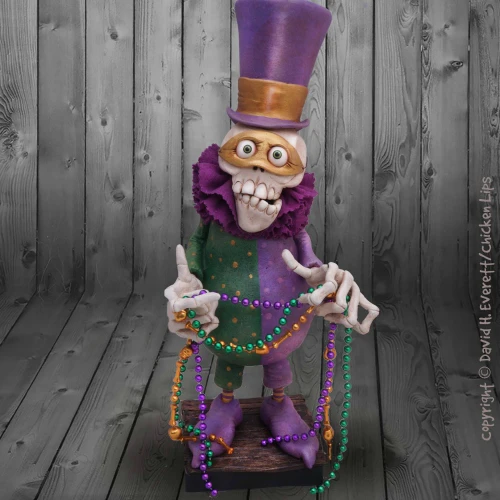 Also, since I live in Southern California, Disneyland and all things Disney have been a big inspiration for me! I have always been fascinated with the Haunted Mansion and have a collection of memorabilia from the attraction that continues to inspire me on a daily basis.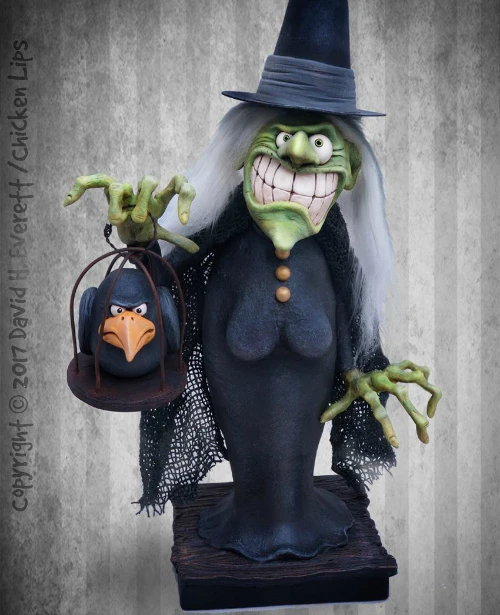 ACTÍVA Products: David, in that regard, please tell us about the art that you create.
David Everett: I work primarily in the air-dry clay medium, sculpting each and every creation by hand (no, I do not use any molds). Each sculpted piece is given a primer coat of gesso, painted in acrylics, sealed, details are added in oil paints, more sealing, staining, and then sealed again. It's a lot of work, but each piece has its own individual character - one that will hopefully bring a smile to my customers' faces.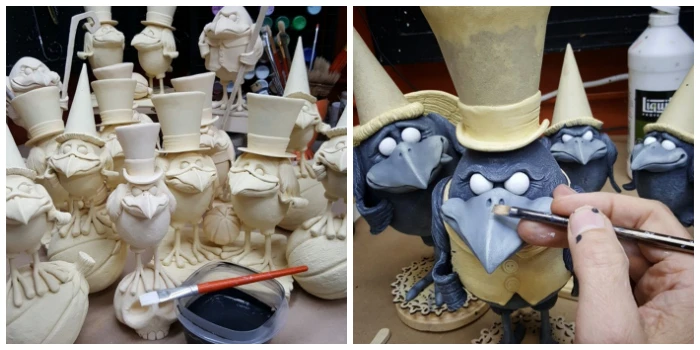 I am obsessed with Halloween and my collectors are as well! I make and sell Halloween pieces all year long. I've loved the holiday ever since I was a kid. When I create Halloween characters, it takes me back to those cool Fall nights when a simple costume (often homemade) could be so magical - and the piles of candy were pretty great, as well.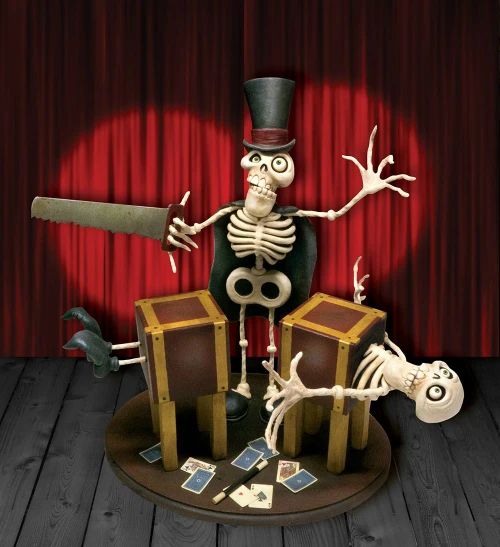 I also create other seasonal art as well including Christmas, Valentine's, Easter, etc. But don't be surprised to see an occasional skeleton make its way into some of my other seasonal designs.
ACTÍVA Products: Well, we imagine skeletons like other holidays, too. So how did you begin creating and refine your craft in the way that you have?
David Everett: As far back as I can remember, I always had to have my hands in something - whether it was "Play-Doh" or finger paints, I have always had a need to create.
Over the years I've worked in many different mediums, including watercolors, acrylics, quilt making and soft sculpture. It wasn't until I started working in papier-maché that I really felt "at home!" The ideas and characters that I had in my head came to life when I started using air-dry clays.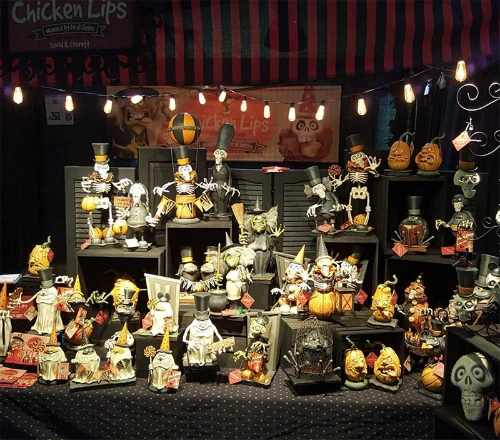 ACTÍVA Products: Speaking of papier-maché and air dry clay . . . do you use any of ACTÍVA's products in your work?
David Everett: I use both CelluClay and La Doll clay. CelluClay is wonderful for some of my larger characters. It is durable and lightweight and easy to sand to a smooth finish. It is easy to add details to with simple sculpting tools and with paintbrushes of various sizes.
I use La Doll for smaller pieces and for the detail work on my larger ones. The two (CelluClay and La Doll) make a great combination. It is so easy to add La Doll clay details to the CelluClay after it has dried. I use La Doll exclusively for all my skulls - it takes detail so beautifully and the smooth finish is such a joy to paint on.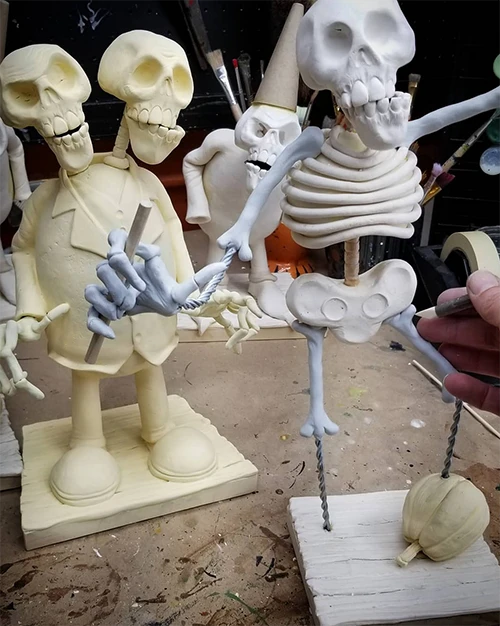 ACTÍVA Products: We're so happy to hear that you use CelluClay and La Doll! Do you have any tips for others using those products?
David Everett: My biggest tip for using CelluClay is to mix it in batches of about 2 cups of material at a time in a gallon-sized Ziploc bag with about 2 tablespoons of liquid dishwasher soap and the recommended amount of water. Sealing the bag and mixing it - squishing and squeezing the bag - keeps your hands clean and really gets that clay mixed.
I also like to wear tight-fitting surgical gloves when working with CelluClay - it helps to keep the clay from sticking to my fingers and makes it easy to smooth out.
With La Doll, a tip I use is to store the unused clay in a Ziploc bag with a damp paper towel. Be careful not to let the towel touch the actual clay (keep the clay in its original packaging). This extra moisture will keep the clay fresh. I use paintbrushes and a little bit of water to smooth out the clay and to add details while I'm sculpting.
ACTÍVA Products: Wow! These are amazing tips. We might need to use them in our "Quick Tips" we share on Instagram! Now, we know that everything you create is magical, but do you have a favorite piece?
David Everett: I have a connection to everything I make - they are like my children. But yes, every so often one exceeds my expectations and is tough to let go. My Skeletons Bobbing for Apples was such a fun piece to make and resides in the home of a very devoted Halloween collector.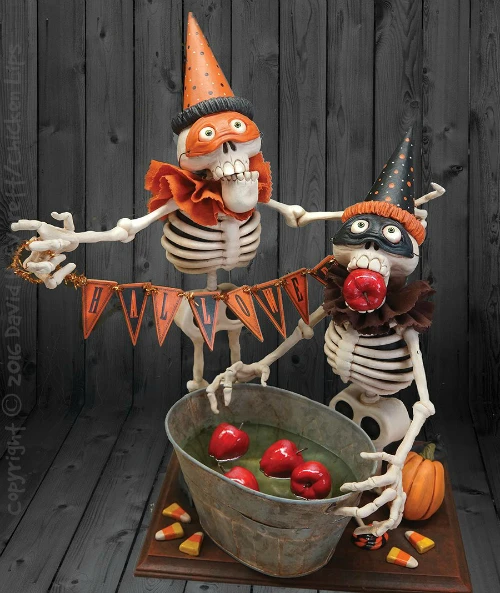 ACTÍVA Products: That is an incredible piece! What are you working on now?
David Everett: Halloween (of course!). I'm getting ready for the Midsummer Scream to be held in July in Long Beach, CA. This show draws over 20,000 Halloween enthusiasts! I'll be offering lots of skeletons, witches, pumpkins and things that go bump in the night!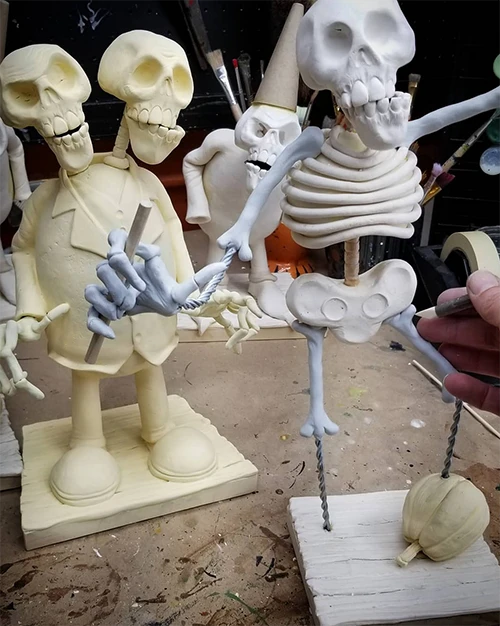 ACTÍVA Products: Sounds like fun! For people who can't make it out to that show, is your work available for purchase elsewhere?
David Everett: My art can be purchased online in my Etsy shop. I update the shop with new creations on the 13th of every month. My work can also be purchased at arts and craft shows in and around Southern California. Please see my website for show schedules.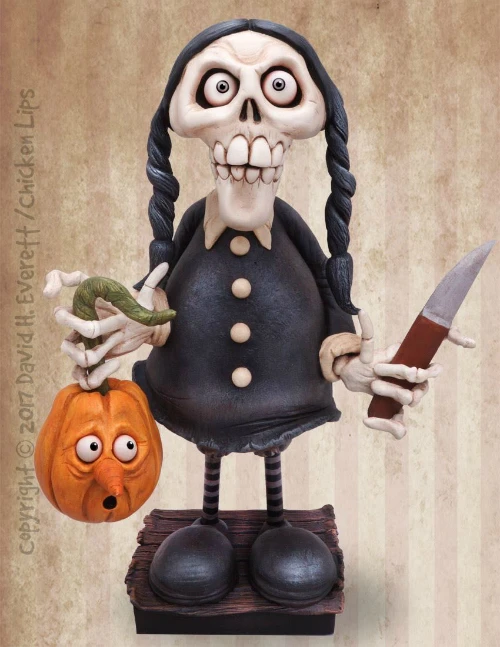 ACTÍVA Products: David, we are so grateful for your time and for sharing all of your talent with us! We really enjoyed getting to know more about the person behind these inspired sculptures!
To learn even more about David Everett and to connect with him, please find him in all of these places:
See our other Artist Spotlight Series Features here!
Are you an artist, or do you know an artist, who is interested in being in the ACTÍVA Products Artist Spotlight? Send us an email at support@activaproducts.com to let us know!