Unity sand ceremonies are a relatively new wedding tradition where couples pour different colors of sand into a container as a way to symbolize the blending of their lives into one. Where families with children are being blended in marriage, couples will sometimes invite their children to participate in the unity sand ceremony, too.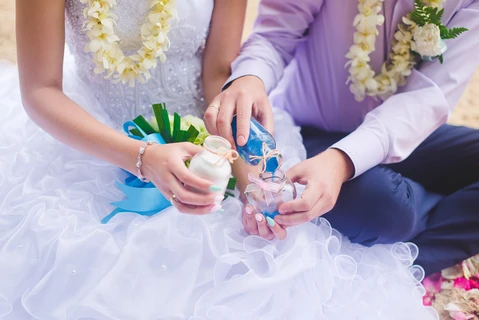 As with all things wedding-related, a little bit of planning goes a long way when a unity sand ceremony is part of your special day! There are many things you'll need to ensure a successful wedding unity sand ceremony, but if you plan ahead, your ceremony will be a beautiful addition to your wedding day.
Here are the important must-haves for any unity sand ceremony:
Fade-Proof, Vibrant Colored Sand
A must-have for any wedding unity sand ceremony is colored sand. Because you'll want this memory to last a lifetime, it's important to be careful with the colored sand you purchase and ensure that it's fade-proof or colorfast, like ACTÍVA's Decor Sand (available in 28 oz. bags), or Scenic Sand (available in 1 lb., 5 lb., and 25 lb. sizes). Many "colored sands" made abroad are not actually colored sand, but instead are crushed rock, and will not retain their color. With ACTÍVA's range of colored sands, you'll never have to worry that the color will fade or rub off onto your hands (or worse, your wedding dress)!
Choose shades of sand that reflect your wedding colors or colors that are meaningful to the wedding couple, such as favorite sports team colors, school colors, and more!
ACTÍVA's colored sands are available in 20 vibrant shades, and special colors are available upon request with a custom order.
Medium-Sized Clear Vase or Vessel
Traditionally, unity sand ceremonies have used a medium-sized clear glass vase as the vessel in which couples pour their colored sand. This is used so that the mixing of the sand is easily visible to all in attendance, and so that the vessel is not so large that it cannot be filled.
As the popularity of wedding unity sand ceremonies grows, more options for unity sand holders are becoming available. Any internet search will reveal numerous products such as shadowboxes, glass blocks, personalized frames, and more.
Small Clear Glasses or Vases
In addition to a container in which to pour the colored sand, you'll also want each participant's sand to be in a clear glass cup or vase so that the colors are visible during the ceremony. Personalize however you like! Etching cream, stickers, and ribbon are all great ways to add special touches to these containers.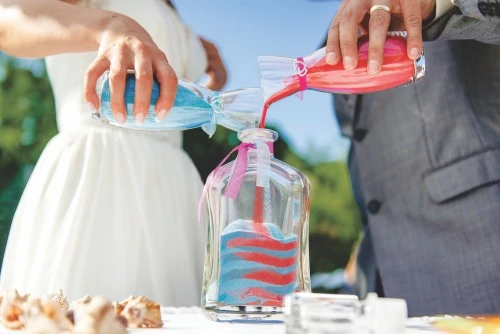 Plastic Wrap and Tape
After the wedding ceremony ends, you'll want to transport your filled unity sand vessel to your next destination. Cover it with plastic wrap and tape to keep the sand from spilling out. You may also want to have bubble wrap on hand to wrap the glass and protect it during transport.
Taking these precautions will allow you to display your wedding unity sand container in your home, or anywhere else that's meaningful to you!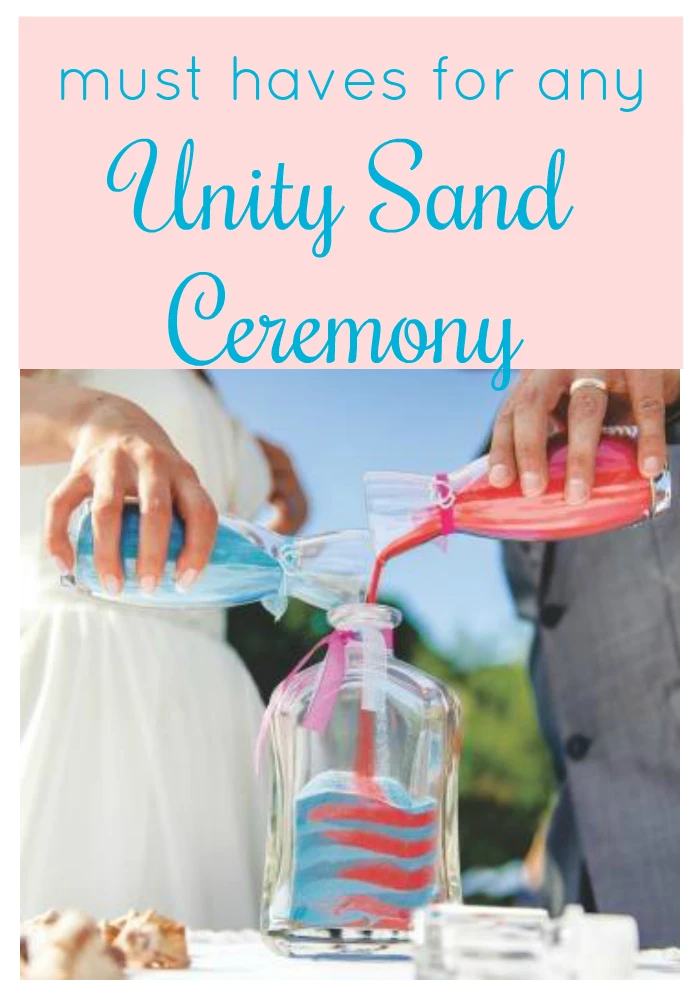 ****************************
If you're planning a wedding, you might also find these articles helpful!
How to Preserve Your Keepsake Flowers (like your wedding bouquet!)